The following article will provide an explanation of what the scratchpad is and why you would use it in your sale process.
Scratchpad is a tool where you can create options for your customers. To enjoy the benefits of the Scratchpad, you must set it up.
Scratchpad Options are not Quotes but a document of the discussion you are having with your client, you can propose different solutions and then during the discussion add and remove items or reconfigure items until the client is happy and understands the decisions that they are contributing to.
Use the Scratchpad to formulate a solution that you and your customer are happy with.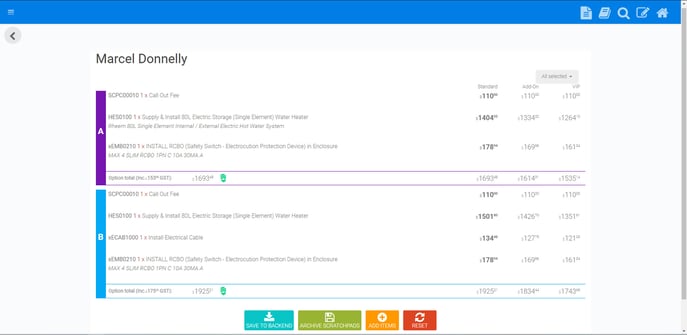 You should:
Document the discussions you are having with your customer and show the pros and cons of the various solutions to fixing a problem, or different approaches to upgrading a bathroom or lighting a room.

Repair or Replace a tap or hot water heater?
Downlights or wall lights?
Caroma or Dorf fixtures and fittings?



Compare the prices of the different options
Apply compliance policies to support decision making
Implement A Sales Strategy
Scratchpad is a tool where you can implement your sales strategy.
You should:
Show pricing incentives that can be earned if your customer signs up to your membership or VIP scheme.
Show how much they can save if they proceed today, rather than wait for another appointment.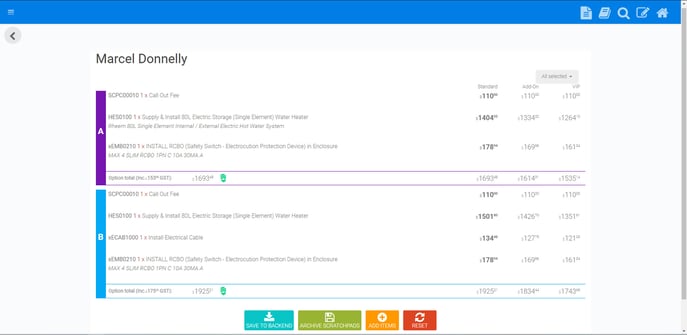 Set up your Scratchpad with our details guide.