This article will explain the Payment Methods section within the configuration such as what payment methods are, how to delete them, how to add them and available payment integrations.
The payment method section gives you the ability to create different payment methods that you would like to offer your client. The most common are:
Cash
Cheque
Credit Card
Eftpos
7 - 90 Day Accounts
Direct Debit
Stripe (integration)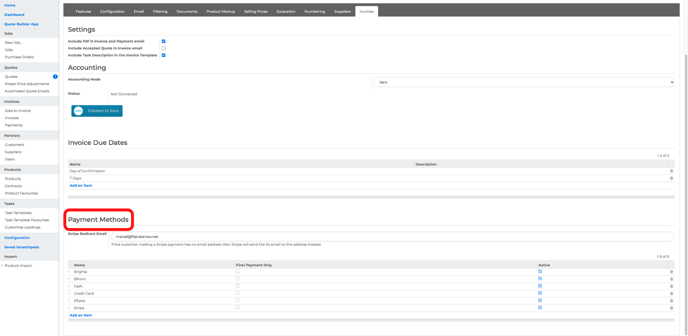 It is important to note that all but Stripe require that you capture the payment external to FlatRateNOW.
Stripe is an integrated payment method where you actually accept the payment through the FlatRateNOW app, not through a POS terminal.
To integration Stripe, head over to our stripe integration section.
Adding new payment methods:
You can add new payment methods to suit your business.
Open your Office View
Click Configuration and navigate to 'Invoices'

Scroll down to see Payment Methods
Click Add an item

Enter your payment method name

Enter the Sequence

Tick if 'Final Payment Only' if you do not want to allow Progress/Deposit payments with this method

Click Save
Deleting payment methods:
Open your Office View
Click Configuration
Click Payment Methods
Click the little bin icon on the right

Activate Stripe:
To activate Stripe, head over to our 'Activating Stripe' article.