What's new in version 1.3?
Modify task headings & descriptions from within the App
Our headings & descriptions are designed to suit the average job however, there are circumstances where you need to tweak the text.
By clicking the 'edit' button on the task, you can now update the text to suit the job.
Reset text changes to tasks
Changing and updating text is one thing, but what if you want to resort back to the original text?
Click 'Reset' on the task and the original heading & description will return.
Modify task headings & descriptions from within the Office Portal
Make quick changes to tasks within the Office Portal.
By clicking 'edit' while in the Quote view, you can modify the Task to match what is required for the job. Remember to hit SAVE to store the change on the quote.
Track changes to task heading & description
When a change is made to the Task heading or description, you will be able to track who made the change and at what time.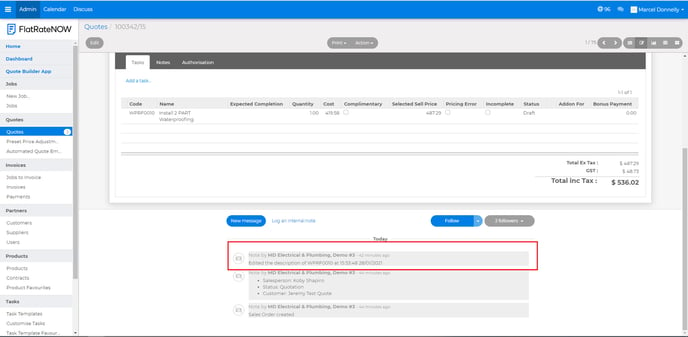 Improved Task Performance
The process of adding or editing a task has been improved with newly updated code.
Improved Scratchpad Performance
When converting an option from the Scratchpad to a Quote, the process has been improved with newly updated code which significantly reduces the loading time so you can get to either Accepting or Sending the quote sooner!
Billing Portal Improvements
Improved code between the Billing Portal and the Office Portal will ensure any changes made to your billing account is reflected by the Office Portal.
Minor Bug Fixes
Minor improvements have been deployed within the loading of the app. These changes are minor but were important to improving the performance of the Tasks on Quotes and the Scratchpad.