This article will guide you through the settings of product markups such as the pricing option for material, number of markups and setting the markup percentage.
Product Markups are an extremely important income stream for all trades businesses. By stocking your vehicle with products/materials, you are offering a convenience to your clients by having items readily available, significantly improving the installation/repair time of their jobs.
Under the Product Markup settings, you will need to decide:
Do I want to set my material/product prices as Cost or Retail?
How many different product markup tiers do you need?
What are the product markup tier values?
To update your Product Markup, follow these steps:
Open your Office View
Click on Configuration
Click on Product Markups
Material/Product Price Option:
Setting your Material/Product Price Option as Cost or Retail.
Click the option for Parts/Materials Pricing Options

Choose from Cost or Retail

Number of Product Markup Tiers:
Setting the number of product markup tiers.
Click the drop down option for Number of Markups

Choose from 1-5 tiers

Building the Product Markup Tier:
FlatRateNOW allows you to prepare your product markup how you want.
Enter into the COST/RETAIL field the up to value of the material

In the field next to the value of material field, enter the percentage you would like to markup

Enter the percentage markup you would like in otherwise

This field covers all other material/product prices that don't fit into your product markup tiers
Examples of Product Markups
Here are 2 examples to get your creative juice flowing:
1. Simple Product Markup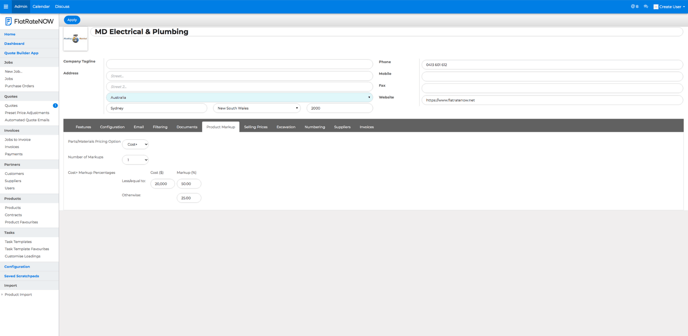 2. Intermediate Product Markup