The following guide will explain how to navigate the FlatRateNOW catalogue.
Navigating to the catalogue from the home screen is possible if you have an active customer. You will need to either have a customer active in your Quote or Invoice.
Head into the catalogue by selecting 'Catalogue' on your home screen.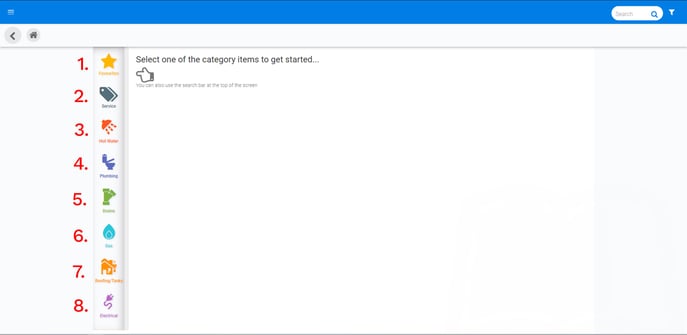 The golden star icon houses your favourite tasks
The grey tag icon are for miscellaneous related tasks such as disclaimers, call out fees etc.
The red shower icon houses all Hot Water System related tasks such as Electric Storage, Gas Storage, Part/Accessories etc.
The blue toilet icon houses all Plumbing related tasks such as pipework, tapware, toilets etc.
The green drain icon houses all Drain related tasks such as Drain Cleaning, relining, excavation etc.
The blue flame icon houses all Gas related tasks such as gas meters, Gas piping, gas regulators etc.
The orange house icon houses all Roofing, Gutters and tank related tasks.
The purple cable icon houses all electrical related tasks such as lights, switchboards, cabling etc.
The search bar can be used as a reference when unsure what category a task falls under. It is important to be short and sweet with your search items.
Each category has a sub-category. Simple click on the tile to navigate further into the catalogue.