Invoicing a Completed Job
The following guide will explain how you invoice a completed job.
It's important to note that when you invoice a job within FlatRateNOW, it will invoice all accepted quotations on the job at once.
If you do not want to invoice an accepted quote, you must cancel the tasks on that accepted quotation.
You have 2 methods of invoicing a job, they are:
Through the job list
From an Active accepted quotation
Creating a Draft Invoice from the Job List
The following steps are to invoice a job from the job list:
Open your job list

Search for your client

Click 'Create Invoice'

You now have a draft invoice ready for you to confirm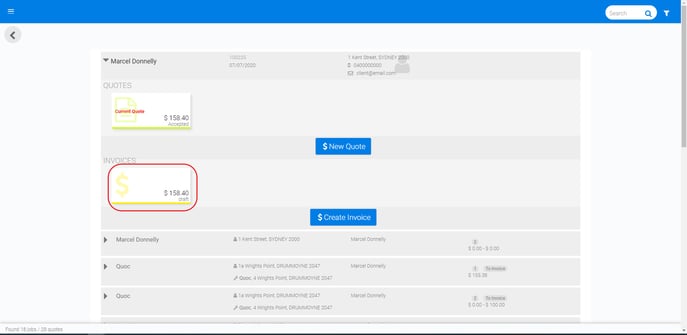 Converting an Accepted Quote to Invoice from Quote Screen
The following steps are to invoice a job from an active accepted quotation:
Open the accepted quotation & click 'Invoice this job'

You now have a draft invoice ready for you to confirm