This article will explain the Labour settings within your configuration.
In FlatRateNOW prices are calculated using your labour sell rate + the material prices (including their mark-ups).
There are 2 Labour settings required in FlatRateNOW, the Labour Cost & Labour Sell Rate.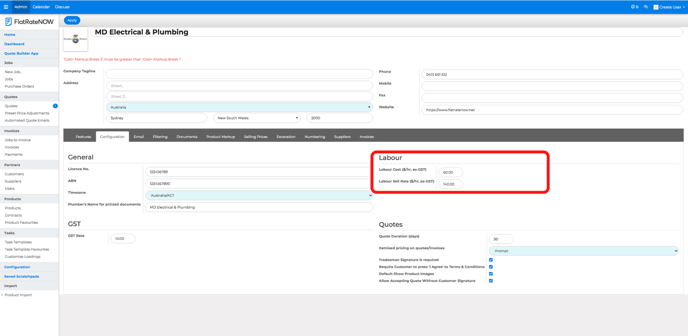 Labour Cost:
This is the amount you must charge per labour hour at a bare minimum to cover all your business expenses and salaries.
To set your Labour Cost, follow these steps:
Open Office View
Click on Configuration
Click on the sub heading Configuration
Enter your Labour Cost Rate
Labour Sell Rate:
This is the labour rate you charge out to the client and it includes your profit margin (usually the Labour Cost Rate + Profit Margin).
The Labour Sell Rate is the labour rate that is multiplied against the allocated time for each task throughout FlatRateNOW.
To set your Labour Sell Rate, follow these steps:
Open Office View
Click on Configuration
Click on the sub heading Configuration
Enter your Labour Sell Rate