This article will explain each of the different sections of the Email tab and why they are important.
To ensure documents (quotes, invoices and payment receipts) are sent to the right areas, FlatRateNOW has an email section where you can define what those email addresses are.
Video Guide:
General: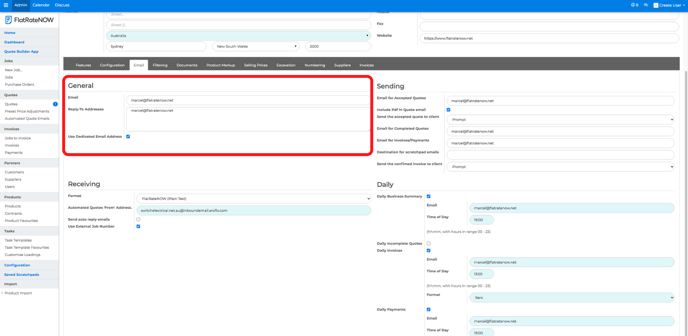 For those businesses that do not ensure their tradesmen have an email address with the company, the 2 below fields are specifically available to replace email addresses that your clients are receiving your quotes/invoices from.
Email

The email entered here will replace all the email addresses used to send quotes and invoices to your clients

Reply-to

The email entered here will receive all email replies to emails send from FlatRateNOW
Sending: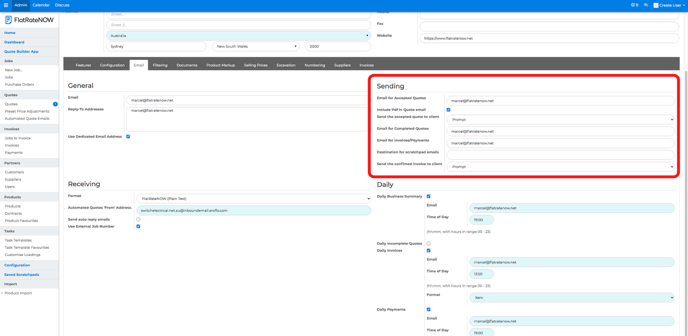 These fields ensure your business receives a copy of each quote, invoice, payment and specifies what email address you would like those emails to go.
Email for Accepted Quotes

The email entered here will be CCd into all Accepted Quote emails

Send Accepted Quote Email to Client

Specify if you want to send your accepted quote to your client the moment they sign.

Email for completed quotes

The email entered here will be CCd into all quotes that are completed

Email for invoices/payments

The email entered here will be CCd into all generated invoices and payments

Destination for scratchpad emails

The email entered here will be sent all scratchpad opens that are 'Saved to Backend'
Receiving: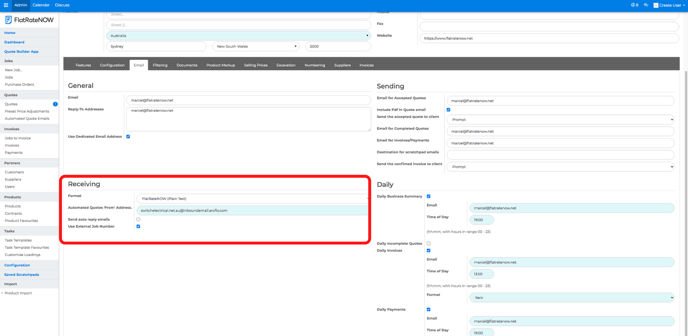 This section is about ensuring your Aroflo jobs are received appropriately. If you do not use Aroflo, ignore this section.
Format

This field is only required if you are using Aroflo

Automated Quotes From Address

Enter your unique Aroflo email address

Send auto reply email

This will capture the email generated by your Aroflo system to ensure all documents generated in FlatRateNOW land in the document section of the job within Aroflo

Use external job number

Replaced FlatRateNOW's job number with your external job management systems
Daily: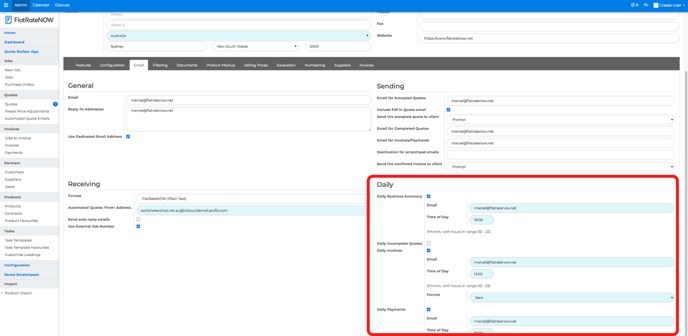 The daily section are all the end of day reports generated from FlatRateNOW for your consideration.
Daily Quotes

The email entered here will receive the daily quote report
The time you specify is when you will receive the daily quote report

Daily Incomplete Quotes

The email entered here will receive the daily incomplete quote report
The time you specify is when you will receive the daily incomplete quote report

Daily Invoices

The email entered here will receive the daily invoices report
The time you specify is when you will receive the daily invoice report
The format you specify is the template that the daily invoice report will be generated in.

If you are using Xero, head to our Setup Xero article to learn mroe.

Daily Payments

The email entered here will receive the daily payments report
The time you specify is when you will receive the daily payments report