It is now easy to automatically send your scheduled Aroflo tasks their assigned service technician in FlatRateNOW and save all FlatRateNOW sales documents created by the technician in their tasks in Aroflo.
The process of 'sending' and 'saving' is automatic, which means the office and the service technician do not have to do anything to make this happen. This means the office can always find all sales and payment documents associated with a customer in their appropriate Aroflo task notes.
This document describes the steps you need to take to create a link between Aroflo and FlatRateNOW, and how to operate the new process.
How It Works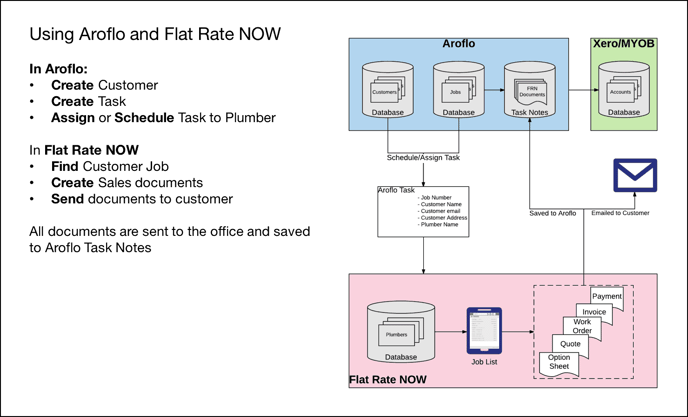 Once the task has been scheduled for a tradesman in Aroflo, they can find a job in their FlatRateNOW job list. Then, using FlatRateNOW, they can create option sheets, quotes, work orders, invoices and payment records for their customers. All of these files are automatically emailed to the office for oversight and are also added to the task notes inside Aroflo for storage, review, reporting and accounting.
Using this method, you keep all of your Aroflo customer records up to date automatically and enable your project teams to view what they have to implement.
Create Tasks In Aroflo & Send Them To FlatRateNOW
In Aroflo, jobs are known as tasks. When a task is created for a customer in Aroflo, and 'scheduled' or 'assigned' to a service person, it is sent to the private FlatRateNOW job list belonging to that service person.
The Aroflo task number is appended to the FlatRateNOW job record to provide a single view of the job across both systems.
The service person sells the job to the customer using FlatRateNOW and, in the sales process, creates numerous documents; for all jobs, these documents might include option sheets, quotes, work orders, invoices and payment statements.
Saving FlatRateNOW Job Files In Aroflo Task Notes
FlatRateNOW sends the job's documents to the customer and/or your office. If your Aroflo subscription includes document storage, you can also choose to automatically save all of your job documents into Aroflo task notes.
This means Aroflo gives you a complete paper trail and a single view of the customer and every transaction you have ever had with them. The process of receiving tasks from Aroflo into FlatRateNOW and saving all the sale documents in Aroflo happens without the need for any manual input.
Updating Your Accounting System With Aroflo Sales Records
If you have configured Aroflo to talk to your accounting system (e.g. Xero), you will need to manually add the sale price achieved in FlatRateNOW invoice to the Aroflo task so it can be processed in Xero etc.
If you wish to itemise the invoice lines in Aroflo to help with inventory management, you can upload the FlatRateNOW price book into your Aroflo inventory and use this as a pick list to build an itemised sales list into your Aroflo task.